The Carve December Workbook
"The Workbook Class is one of the best classes I ever invested in….This class is a great too for helping you think things through. Watching Julie go through the process has helped me ask similar questions that I hadn't thought of. It's making the process so much easier than I thought it would. I can't imagine going back to just making it up on the fly. I love thinking it through!" – Joanne
"One of the most valuable teaching moments you provide, Julie, is your attitude toward your artwork. Your matter-of-fact observations, acknowledgment of flaws/quirkiness/artist's hand/challenges, and pro-art positive attitude are so refreshing." – Rhonda
"Your enthusiasm is contagious! Love it." – Maria
"Julie's classes deliver so much more than I tend to expect, and Carve December Workbook is no exception. Before December, she gives great insights about how to get the most out of a class or challenge. During Carve December, she introduces us to a super fun and flexible way to stay organized during the month and capture thoughts and learning. Then, after Carve December is all over, and I'm expecting a simple wrap-up, she presents such amazing – challenging – useful – ideas about what to do next and how to take it so much further!!! I am going to use this approach for every future project, class and challenge I undertake – it's genius!" – Karen
"Julie, I created my workbook and decided on florals. Although I am lagging behind a bit in my goal of carving a stamp daily, I do find the exercise of thinking things through and documenting the process helpful….Together with this Workbook class, I am using your CARVE STAMP PLAY book and your Stamp Carving 101 class to learn. These resources of yours, and this course's teaching, are stretching me as an artist. Thanks!" – Christine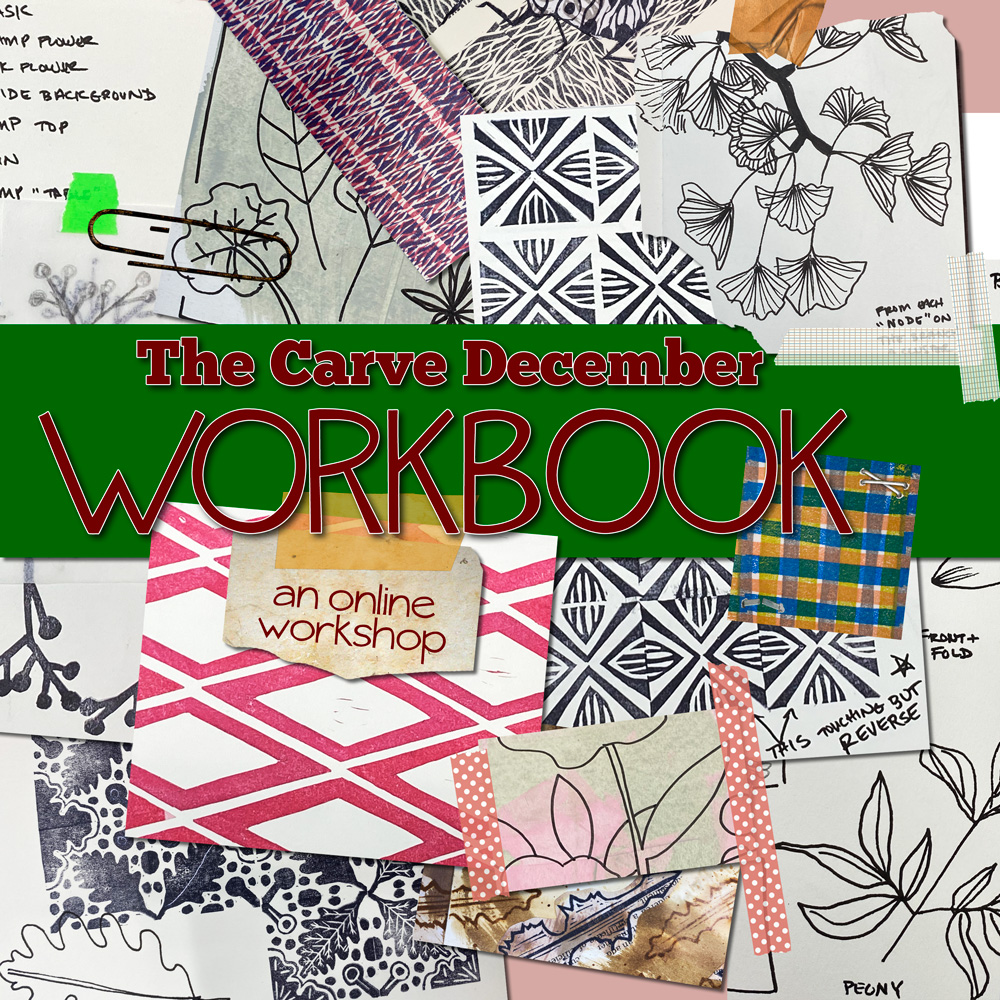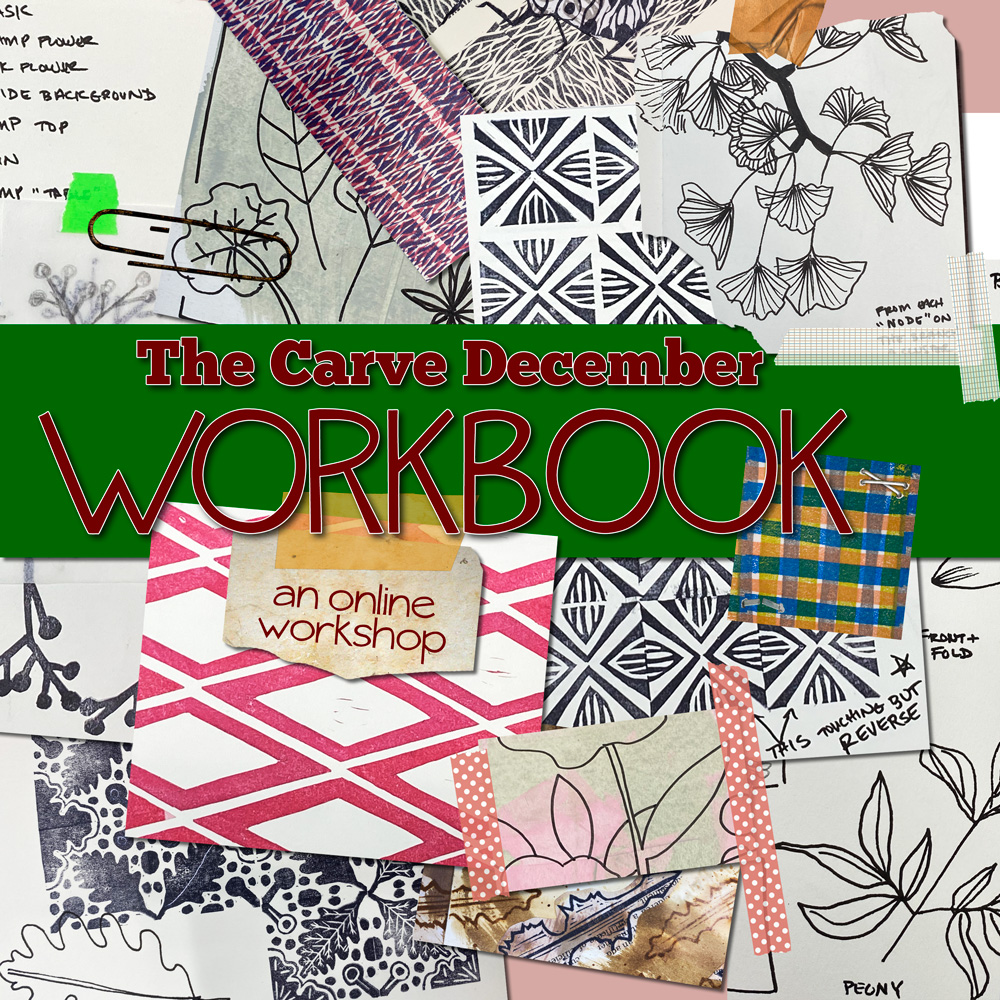 I'm incredibly excited to offer you a new multi-month online workshop called "The Carve December Workbook."  While I have organized the course to be conducted in November, December, and January, you can do it any time of the year.  This is a methodology of working that can be used for lots of different types of projects — especially daily challenges like "The 100 Day Project" or "Februllage" or "Inktober" or a self-directed challenge where you want to improve your artwork.
Here's the month-by-month breakdown:
November = Preparation:
Learn to make a no-sew workbook that expands as much or as little as you need in order to follow the way you think.  Flips, flaps, and pockets will all be explored.
Learn how to prep for #CarveDecember in order to get the most out of it.
There are 9 video lessons in this section of the course.
December = Carve December:
Learn how to use your workbook to help you design and record your #CarveDecember progress.
There will be daily videos (35 total) in December, focused on how to use your workbook as you carve and print each day.
Each day in December 2022, at least one new video will be released.
January = Reflection & Looking Forward:
Learn how to handle the often neglected follow-up period.
Learn how to use what happened in December to propel yourself forward for the rest of 2023!
All January video lessons (6 videos) will be available on January 1, 2023.
April & September!
There are two live Zoom calls to check-in on your progress and mine.
Each call will be recorded and posted in the classroom.
This class assumes that you already know how to carve stamps.  If not, no worries.  My "Stamp Carving 101" class ($50 value) is FREE with the purchase of this class and available to you immediately upon signing up for this class.
Here are the rest of the details:
You have lifetime access to all content.  Watch anytime.
Lessons are delivered via video.
Each video is followed by a short bulleted list of "take aways."
You can watch and rewatch the videos, speed them up, and slow them down.
Each lesson has a comments section where you can leave questions and comments.
There is a general Facebook Group for Balzer Designs Students where you can share your work, if you wish.  You can also share on social media with the hashtag #carvedecemberworkbook.
This is a process-based class.  If you ever wanted to get inside my brain, this is the class for you.  In each video I talk you through my process and how I'm using the workbook to aid that process. To get a sense of what the lesson are like, here is a sample:
I look forward to seeing you in the classroom.