A Year of Gelatin Printing: I Want It All
"I am a retired elementary teacher. I must remark that you are a gifted teacher! Your breakdown of the gelli printing techniques is easy to understand, good results are attainable and most importantly, I think, is the joy of creating you exude. Thank you so much! So grateful I signed up for this journey." – Joy
"I'm so glad I bought the whole year – I don't know how I'd do this month without all the great ideas from the previous months! Also, usually I do the lessons and practice as I go, but this month, I had to listen to it all and now I'm excited about just doing tons of practice!" – Karen
"I've gone from having piles of gelli printed papers to using them as fast as I make them in this class." – Laura
The first time I tried a gelatin plate, I became an addict.  Literally the first time.  It was love at first sight!  And that was in 2011!  I have been gelatin printing for ten years and I want to share every single thing that I have learned about the process of gelatin printing over those ten years, with you, in my course, "A Year of Gelatin Printing."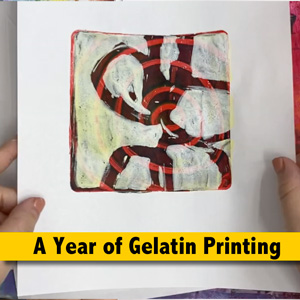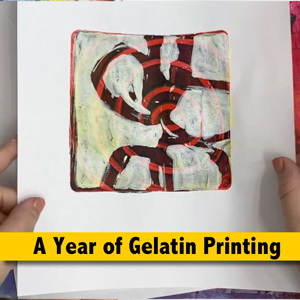 Although, I might have mis-named the course.  It should be "13 Months of Gelatin Printing AND Bookbinding."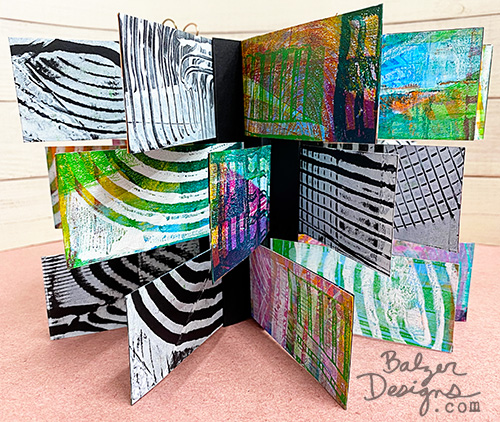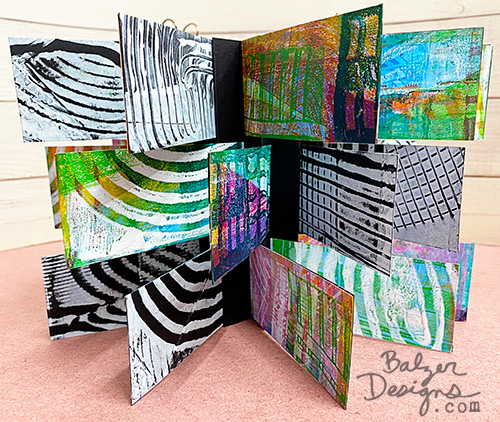 It's also more than a year.  In fact, there are THIRTEEN months of lessons.  13 months of classes.  So, it's like a Baker's Dozen year.  😉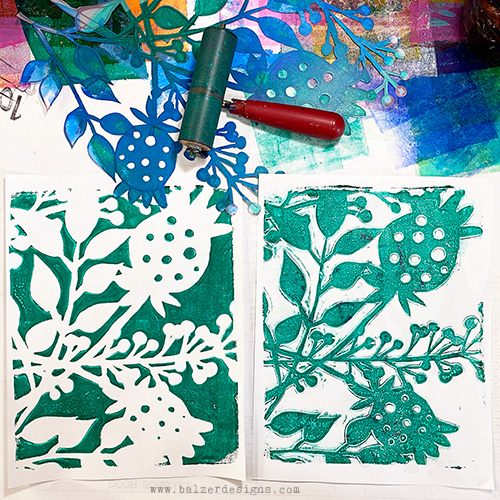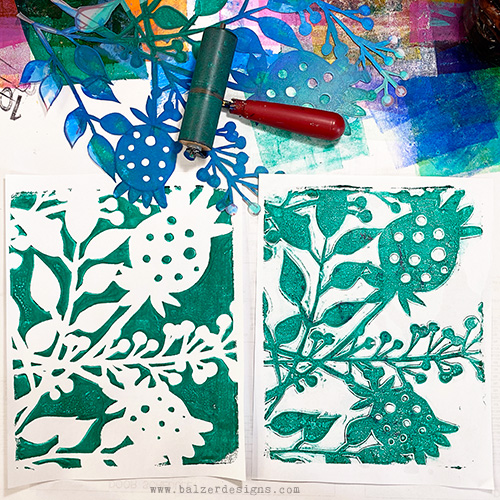 This class is epic, with almost 200 videos over 13 months!  Join me for all the fun!
Intrigued by gelatin printing?
Not getting the results you want when you print?
Excited to make your own stamps and stencils?
Making a lot of backgrounds or collage paper with your gelli plate but not a lot of finished art?
Can't figure out what to do with all of those gelatin prints?
Want to understand how to create clear layers on the gelatin plate?
Wish you could make your prints more unique and more "you?"
Curious to explore mixed media printmaking?
Do you want to master the gelatin plate?
Hoping to take your work to the next level?
If you answered yes to ANY of those questions, then "A Year of Gelatin Printing" might be an excellent fit for you!  Click HERE to skip straight to the BUY button!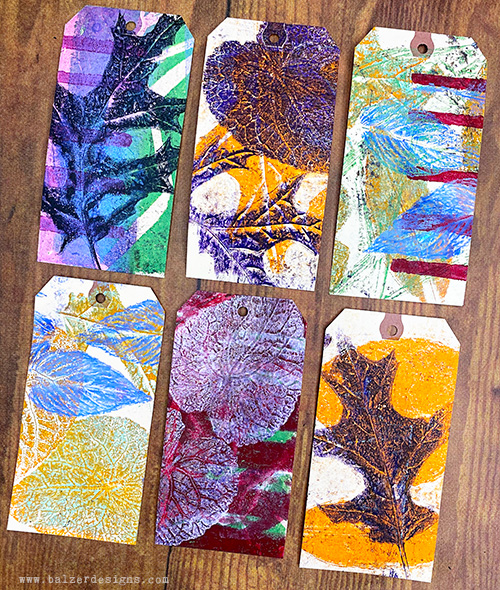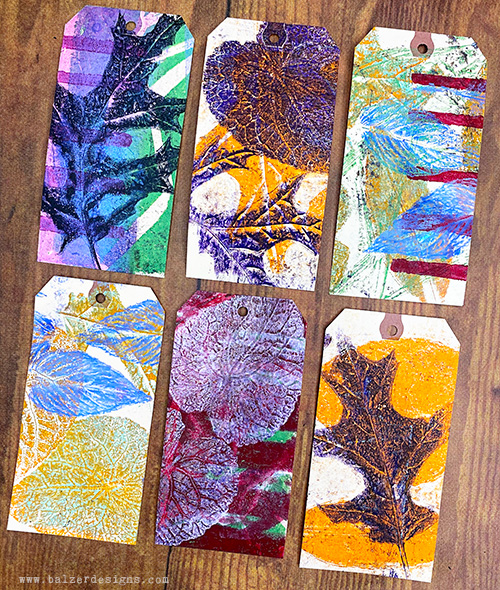 PLEASE NOTE:
"Simple Acrylic Paint Monoprints" is a prerequisite for all of the other workshops.  As you know, a strong foundation is the key to getting the results that you want!  More than that, the techniques in that course will guarantee that we share a common printing vocabulary and are all on the same page as the techniques become more advanced.
Month 13's workshop (Composed Prints) is only available to those who have purchased the previous 12 months of classes a la carte or the entire 13-month workshop at once.  Composed Prints requires students to draw on a series of gelatin printing skills and is therefore a good fit for those who have developed all of the required skills.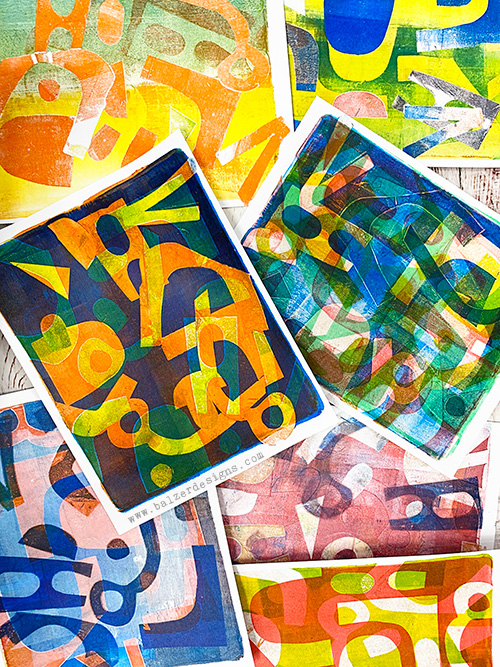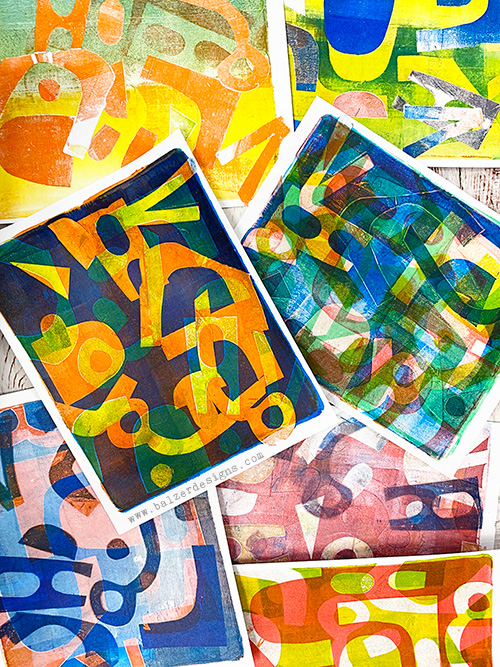 Below you can find more details about each of the 13 months of this epic online workshop.
Simple Acrylic Paint Monoprints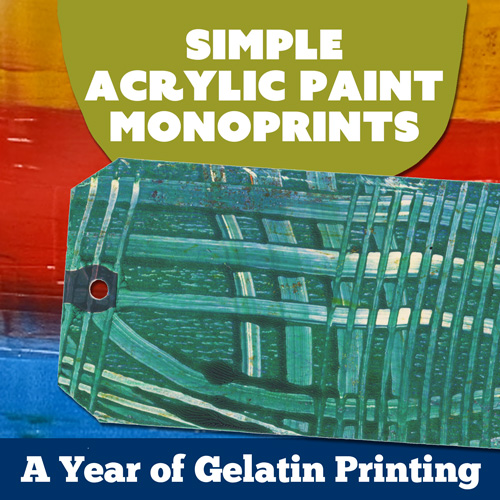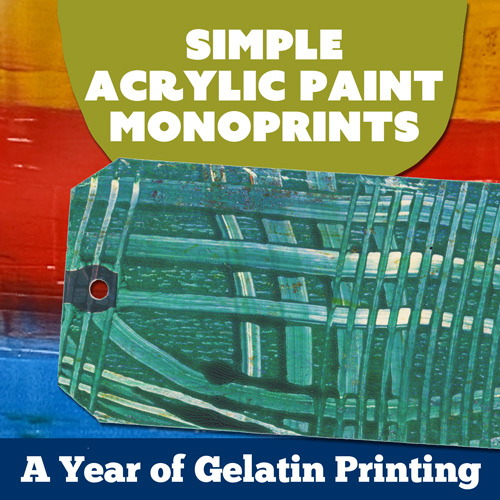 If you're new to gelatin printing or if you're experienced but not getting the results you want, this unit is for you.  It's all the basics that will enable you to create masterful prints – skills such as how much paint to put on the plate, how to mix colors, understanding opacity, and more.  There are 19 video lessons in this workshop.  As I mentioned above, if you're interested in the a la carte version of these classes, this unit is a prerequisite to any of the others. LEARN MORE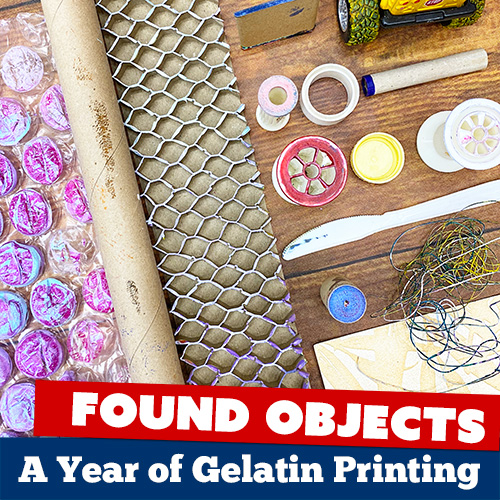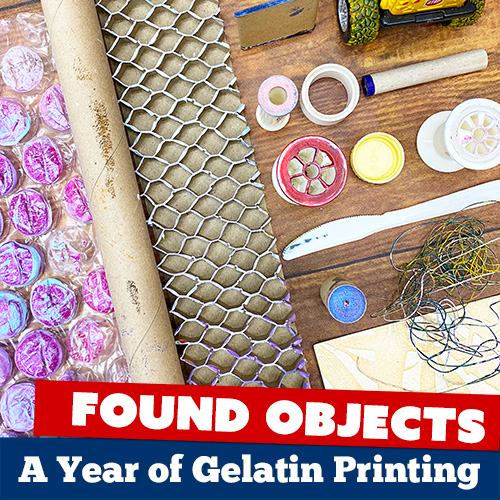 From string to rubber bands to Amazon boxes, we will be using all of the stuff you've accumulated in your junk drawer in order to create beautiful one-of-a-kind monoprints.  This unit also includes two video lessons specifically about nature printing — all the best practices for printing with the "supplies" from your own backyard (or the park down the road).  LEARN MORE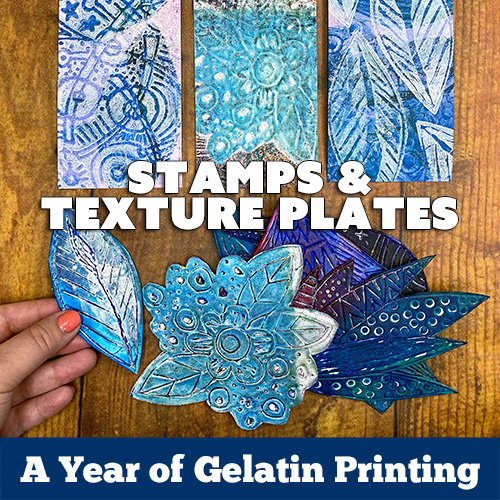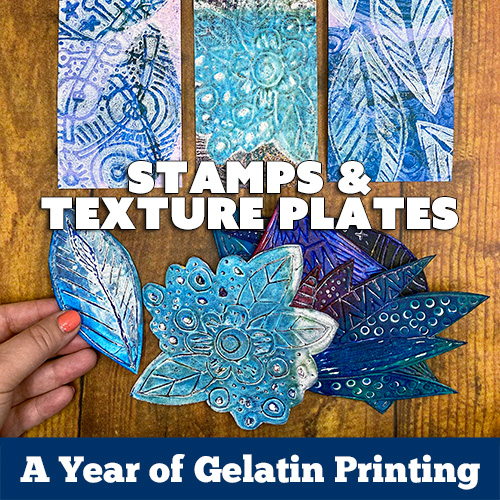 We will explore how to get the best results out of rubber, silicone, and foam stamps on the gelatin plate.  And then we will make our own fabulous stamps and texture plates from a variety of mediums.  One highlight I'm especially excited about: I'll be sharing how you can make a seamlessly repeating stamp out of foam! LEARN MORE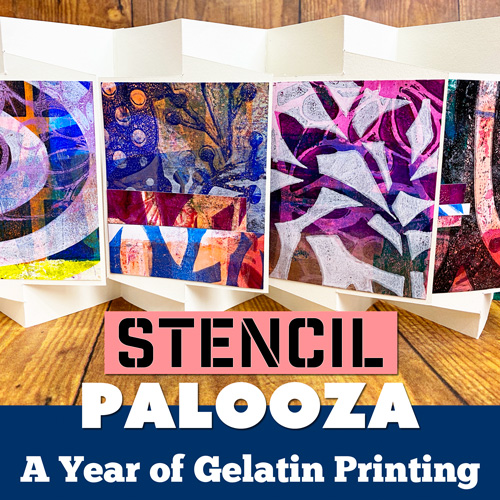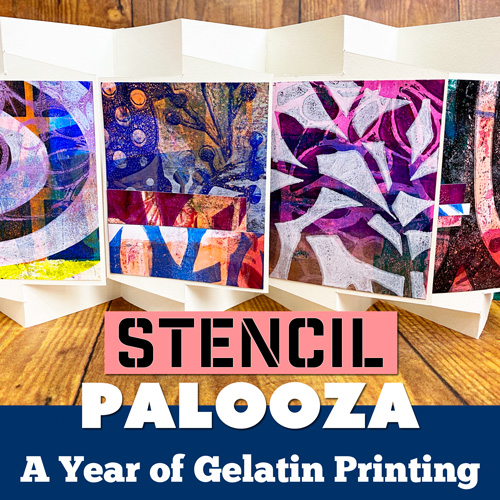 Stencils and gelatin plates belong together like chocolate and ice cream.  Each is great on its own but put them together and wow!  We will explore a variety of techniques for using stencils and masks on your gelatin plate, but we will also be hand cutting our own unique stencils.  I'll share tips and tricks on how to create fabulous one-of-a-kind stencils. It's easier than you think! LEARN MORE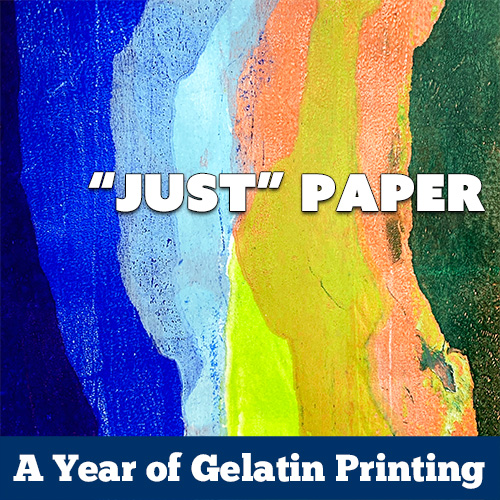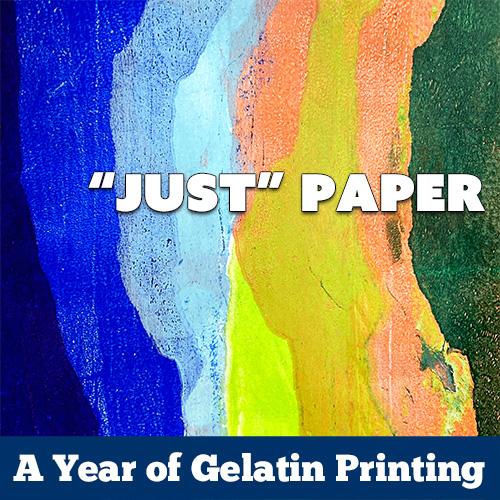 Paper is a powerful tool.  You'll be blown away by the gorgeous prints and patterns you can create with some simple paper manipulation.  If you want to take your gelatin plate with you when you travel, knowing these tricks makes it so much easier to pack!  And the bookbinding lesson in this workshop is the one everyone always asks about: coptic binding.  Don't worry if you've never made a book before. I'll walk you step-by-step through the process. LEARN MORE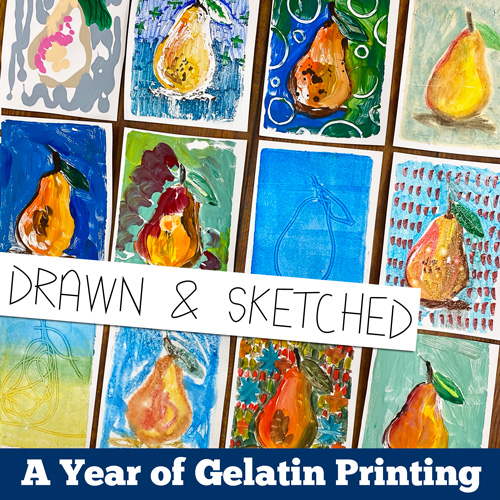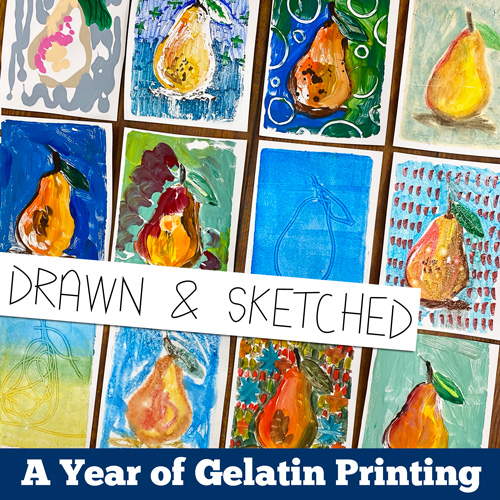 The gelatin plate is a wonderful surface for creating drawings.  AND if you use the right mediums, you can have hours and hours of time to work on your masterpiece.  Doesn't that sound great?! In class we will explore a wide variety of mediums to create our own unique drawings.  No actual drawing skills required!  And we will make a fabulous reference book to house all of your experiments!  LEARN MORE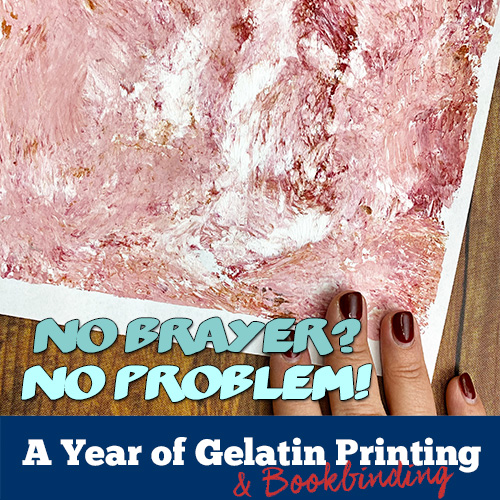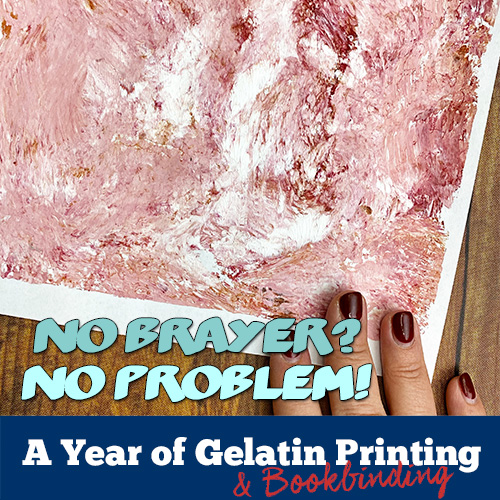 One of the "rules" of gelatin plate printing is that you need to use a brayer, right?  Wrong!  There are several ways to get paint onto the plate without that little roller.  And these methods often create very exciting and fresh results!  This workshop is particularly fun because there are TWO different bookbinding lessons.  One, from me, and one lesson from Kiala Givehand.  LEARN MORE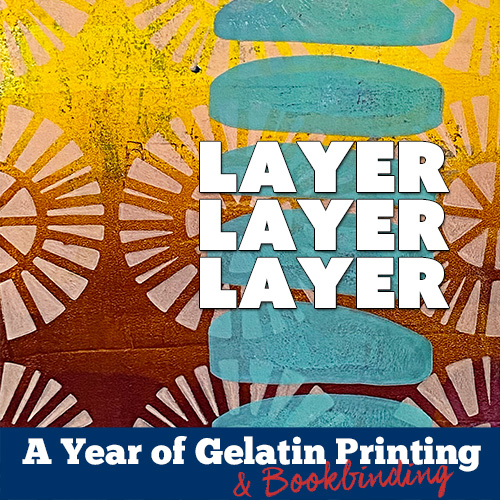 Let me teach you all the tricks to creating beautifully layered prints.  We'll go deeper into opacity, color choices, and cover different methods of registration in depth!  This class is all about gaining the practical skills you need to be successful at creating layered prints.  There are TWENTY-NINE videos in this workshop. Wow!  LEARN MORE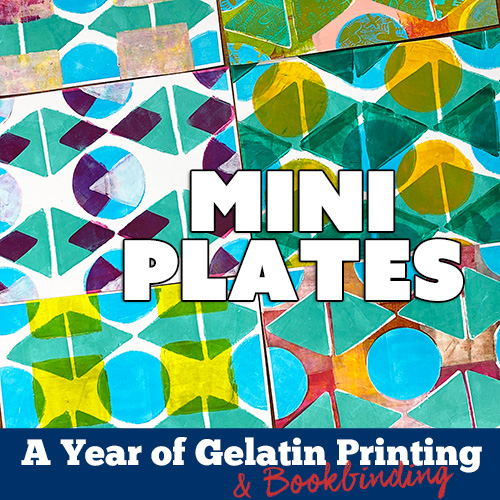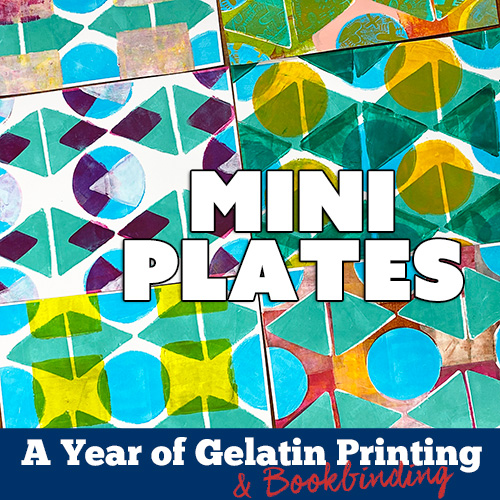 Mini plates are not just for making mini prints.  Come and explore the big impact you can make with these little workhorses.  There are TWENTY-FOUR videos in this workshop.  LEARN MORE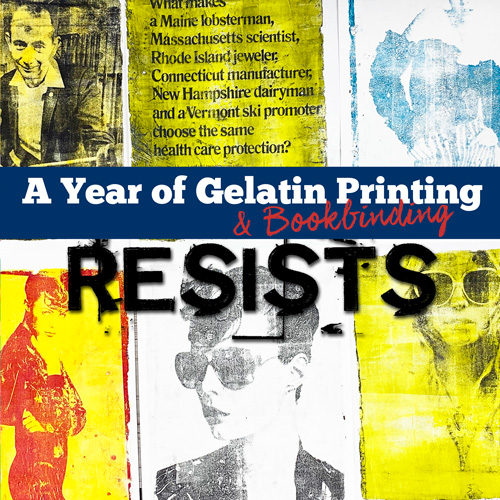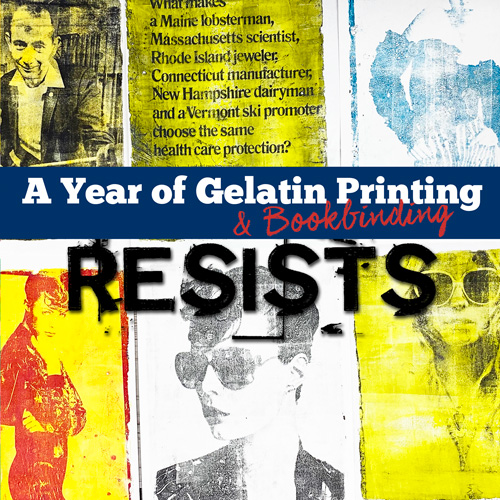 Yes, we will cover how to get great magazine resist prints on the gelatin plate! But go beyond the basics with me and explore lots of different kinds of resists, and learn exactly how resists work so that you can get great results every single time.  A little bit of knowledge, mixed with some experimentation, and you'll be creating piles of totally irRESISTible prints.  LEARN MORE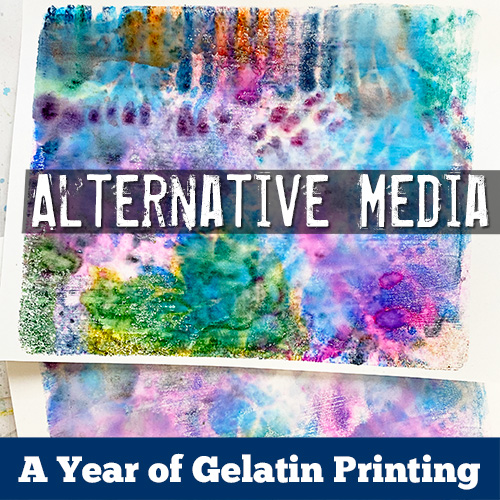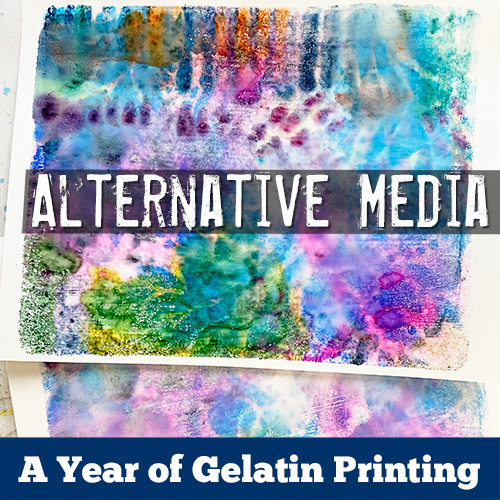 Yes, you can use stamp pads, watercolor, spray ink, and lots more on the gelatin plate.  Most of the time it comes down to how you prep the plate and/or remove the media.  Come and learn all of my tips and tricks for a wide variety of media! This is a MEGA class absolutely PACKED with content — more than 30 video tutorials!!!  LEARN MORE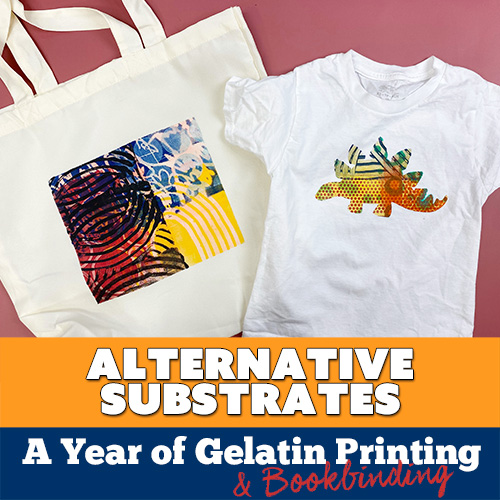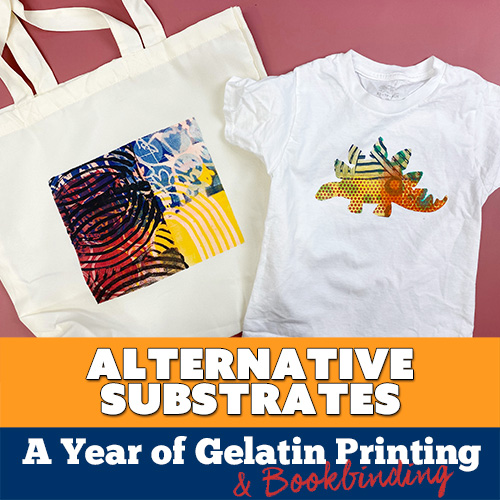 Another name for this workshop could be: gelatin print on everything! I mostly print on paper, but you can print on fabric (including t-shirts), wood, glass, and lots of other surfaces! Come and explore the possibilities with me.  LEARN MORE
Workshop #13: Composed Prints (not available a la carte)
How do you make a gelatin print that isn't just "a background," but rather a composed print? It's easier than you think.  I will take you through the process step-by-step, including how to create a sketch and then make a print that actually looks like that sketch! This particular workshop is best for students with specific gelatin printing skills and therefore is only available to those who have purchased the previous 12 months of classes a la carte or the entire 13-month workshop at once.
If you buy all 13 months, you get a discount of $135!!  (That's 3 months FREE, and a discount of almost 25%.)  Full price is $585 (13 x $45).  The discounted price is $450.
Some things for you to know:
All lessons are delivered via work-at-your-own-pace HD video.
The bookbinding lessons range from incredibly simple forms to very complex ones.  Some involve sewing and some are no-sew.
Once you purchase this class, you have lifetime access to it.  Learn anytime and on your own schedule.
There are written "take aways" after every video. These are helpful (a) to reinforce learning and (b) to make finding the information you're looking for easy.
You can ask questions and interact with other students in the comments section of every lesson.
After this year of gelatin printing you will be a bonafide gelatin expert!
Still have questions?  Click HERE for more answers to FREQUENTLY ASKED QUESTIONS!
This class is epic, with almost 200 videos over 13 months!  Join me for all the fun!
Testimonials:
"I've really enjoyed the class so far and love the format – printing for 15 days and then booking it for the next 15 – great idea and we learn what to do with our prints at the same time we are actually use them for something tangible. We can say we painted and printed a book in the same month – golden!" – Sheri

"I absolutely love this class so far! I'm so excited for the rest of the year – I'm new to gelatin printing and now I'm completely addicted. I watched your first class and then just was printing for hours, loving every second." – Amy

"Great class… so fun and the added book binding is so perfect as a place to put all your prints at the end of each month!!!!!❤️" – Robin

"This is a fabulous class. Each month is a different theme jam-packed with tons of videos. It's self-paced so that if you are busy you don't have to worry that you are missing anything or getting behind. Each video gives you all the information you need, and Julie's casual but informative style keeps you interested and wanting to dive into the next. Plus, I the succinct but fun format really works for me. I know there are many styles of teaching and online class formats. There is something for everyone! However, if you are one (as I) who can't take watching paint dry and having 2-4 40+ minute videos for each class/technique, then this is for you!" – Ellen

"My favorite part of the class is that you've combined two of my favorite activities. And, also, now, when somebody asks, "What do you DO with all the prints?" (as if there needs to be a purpose for gel printing) I won't have to punch her!" – Lynn

"I'm having a blast and really loving the grungy abstract looks from not cleaning my plate. When I first started using a gelatin plate I focused on clean prints. I didn't know what I was missing. The whole batch printing concept helped me find results I prefer and might have never tried without your guidance. Thank Julie!" – Donna

"There is SO MUCH in this one lesson. Wow! I was somewhat worried when I signed up as to whether I'd be able to keep up. Now, I'm sure I'll have difficulty … but so worth it … Thanks!!!!" – Karen
"I loved this class – thank you so much Julie for giving me constant inspiration and ideas in a year that for me has been rather exhausting and lacking in creativity … now where did I put those stencils!" – Glenda