Gelli Journals
Student Testimonial: "I am blown away with the techniques you are sharing and, more importantly, how you convey your lessons. You are the master of on-line classes – you share so much information with us. Not just how to but why. And your music is fabulous. I can't begin to tell you how happy I am that I gifted myself 'gelli journals'." – JoAnn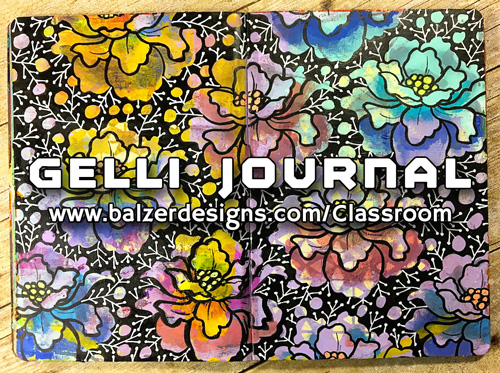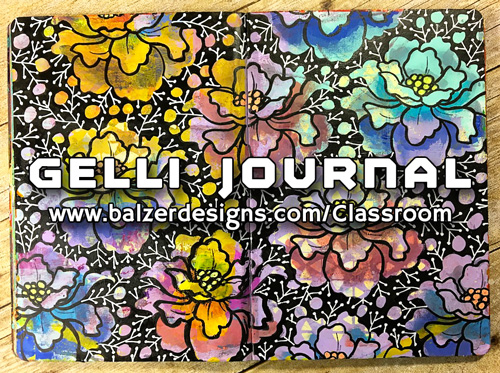 This is a class that has been in the works for four years.  Seriously.  I filmed the first four videos in this workshop four years ago.  For the past five years, this has been one of my favorite art projects to take with me when I travel.  In class you will learn how to print directly into your journal — including into that crack…
…and then transform those printed pages into colorful picture pages!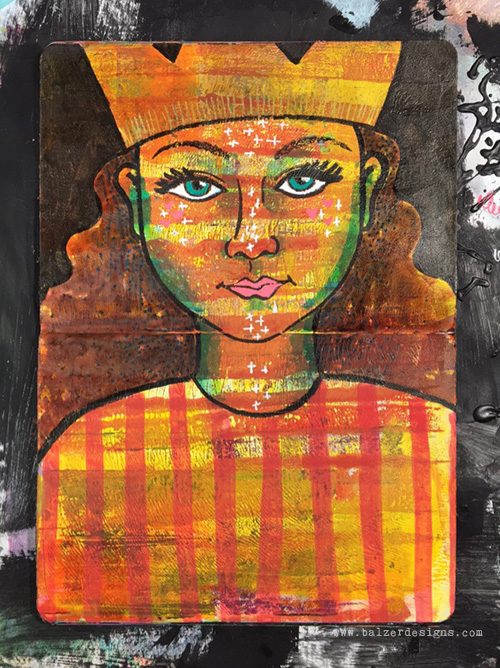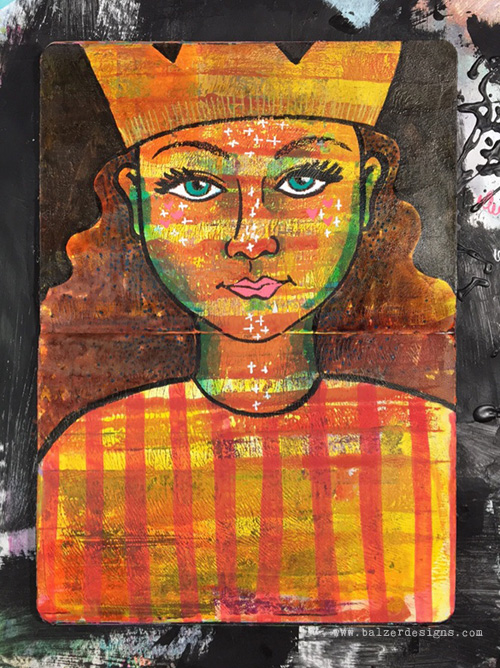 Here's what to expect from class:
There are more than 30 HD instructional videos.
What you see in these photos and this video is just a tiny taste of what awaits in the classroom!
The online classroom is packed with written tips and take aways.
You can leave comments and questions and interact with other students, just as you would on a blog.
The first half of the class is all about gelatin printing directly into a sketchbook — how to make sure you get the crack, how to fix problems that occur, how to create layers of color and pattern, how to keep pages from sticking together, etc.
Whether you're an experienced gelatin printer or you've never ever tried it before, this class is for you.  Experienced printers will proceed through the gelatin printing section quickly and less experienced or brand new printers will take their time going lesson-by-lesson.
The second half of the class is all about creating pictures in your printed journal.
You do not have to know how to draw.  I share methods for creating pictures by stamping and stenciling — there's even a video on creating a stencil from a photograph!
If you want to try drawing, I share how to combine simple shapes to create wonderful pictures.
I share my tips on embellishing your pictures with gel pens, paint markers, and more.
I focus in on correcting "mistakes" (aka happy accidents) and getting the results that you want.
Take as much time as you want or need to complete the course.  Once you purchase "Gelli Journals," you have lifetime access.
PLEASE NOTE: The first four videos of this class have some auto-focus issues and so they go in and out of focus, as you can see in this YouTube video.  If the bouncing bothers you, do not sign up for class.  No refunds will be given.
TESTIMONIALS:
"I enjoyed this so much. Thanks a bunch Julie. Looking forward to the next class I've signed up for!!  BTW, Sorry I don't post on social media, but I did do every exercise, some twice, and have done some more since. It is very relaxing and a great project." – Karen
"Super class! Love that I've found a way to travel with colorful art projects that can get through security. I appreciated all the ideas on how to use the journal as a sketchbook, as a place to practice lettering, as just a way to relax." – Shannon
"I also loved the class! I have long been an admirer of your lettering and was especially pleased that you included a lesson/demonstration of shadows. You shared a great to problem solve on a practice sheet. Being a visual learner, and a calligraphy/lettering enthusiast, I found your diagrams to be an interesting breakdown of the exercise. Thank you for that added bonus. I was continually frustrated that my brain could not figure out how to successfully do shadows. Loved your travel kit. I am excited to now Gelli print inside journals. I did not want class to end." – Julie
"Thank you so much! Great ideas to follow up." – Sue
"I am blown away with the techniques you are sharing and, more importantly, how you convey your lessons. You are the master of on-line classes – you share so much information with us. Not just how to but why. And your music is fabulous. I can't begin to tell you how happy I am that I gifted myself 'gelli journals'." – JoAnn
"Love that you say 'Go for ugly.' THAT I can do!  But seriously, lots of inspiration in these videos." – Sandra
"Loving this class. I've learned so much already." – Tracie
"You've done a great job of clarifying the ins and outs of color, opacity/transparency and contrast. Even though I'd figured it out over time, your videos are going to help me to focus more sharply on making choices based on what I'm trying to achieve." – Robin