Make Your Own Junque Journal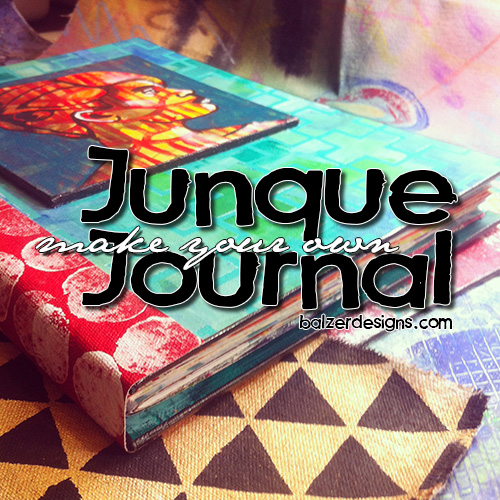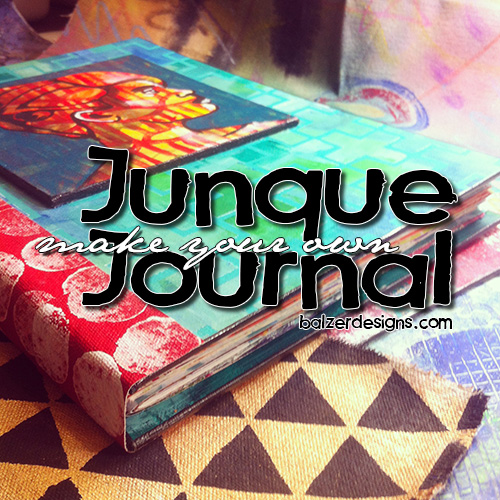 Nowadays I prefer to work in an art journal with non-blank pages.  For me, it makes the art journaling process much easier and cleans all the junque out of my studio (bonus!).  In this five-week class I'll take you through the process of putting together your own fabulous Junque Journal.
Here's a quick video about the class:
Week One: Covers
In week one we'll design and decorate our covers.  All measurements for the book will be based on the size of your covers, so that's why we're starting with the covers.
Week Two: Pages
Week two is all about paper, baby!  Gather all the half finished projects and junque you have laying around!  I'll show you how to create the large inside pages for your journal.  We'll discuss what kinds of papers work best and how to reinforce weaker papers to make them work.
Week Three: Stitching
Even if you can't sew at all, you'll be happily stitching away with this easy binding technique.  In week three we'll be stitching all of our signatures together to create the guts of our journal.  You get both video instructions and diagram instructions on the stitching!
Week Four: Cover Shell
This journal has a full wraparound binding.  It looks like a hardcover book, with a covered spine.  In week four we'll be putting that cover shell together.
Week Five: All Together Now
At last it's time to put the whole book together!  In week five all of your hard work will come together into a finished Junque Journal!
Like all Balzer Designs classes, once you purchase the class you never ever lose access.  You can also ask questions, chat with other students, and share your artwork in the classroom forum.  You have access to the forum before class starts, so go ahead and get chatting right away!
Taking an online class with me is like sitting on my shoulder while I create.  I talk you through all of the decisions I'm making and why I'm making them — whether it's products, techniques, or design.  I take you step-by-step through it all!
While I do give you the measurements for my journal, I also supply you with the knowledge of how the measurements relate to each other so that you can make a Junque Journal of any size that you wish!
Lessons are delivered via HD video.  You can pause, stop, rewind, and fast forward the nineteen class videos as needed.  Lessons are divided up into easy-to-digest chunks, and each video is followed by a bulleted list of take-aways.  This makes it easy to pop back into the classroom for a quick refresher without having to watch the entire video.
Like all of my classes, once you purchase "Make Your Own Junque Journal" you never lose access to the classroom.  Come back as often and for as long as you want!
Here's a small sampling of what students are saying:
"I've taken a million art/craft classes (exaggeration) ranging  from knitting, quilting, mixed media, calligraphy, etc….you name it, but this Junque Journaling class has got to be my all time favorite.  Julie, even though I have dabbled in just about everything there is to do with art, I always manage to learn something new and exciting from you. I'll be posting my journal this afternoon … have to run my grandson to school. Until later….hugs."  — Sue
"Hey ALL, I've made 5 Junque Journals & I loved this online class. Julie, your videos are so much fun to watch and listen to. I am truly addicted to making my own journals now. " — Donna
"Loved this process. There were so many papers that wouldn't let me throw them out. I can see more of these journals in my future!" — Sandra
"I just want to say a huge thank you for this class Julie! Despite my many attempts, I've never had any real luck with bookbinding before. But now, I am on a roll! I love the finished product of a totally unique journal, and as always, your videos were packed with info and so fun to watch. I'll never buy a boring old journal again!" — Melita
"Ok my first attempt is a mess…probably because I finally had time to work on it last night and was determined to finish.  I love it faults and all.  Can't wait to make another…and another…and another!" — Elizabeth
"Thank you so much for this class!!! I LOVE this binding method so much! Can't wait to make another Junque Journal! I think I will try 9 x 12 next…" — Michelle
"I've finished 4 journals and working on my 5th and last for now! I enjoyed this class so much! I learned so much! Thank  you for doing this class, Julie.  I love your laid back teaching style and your quirky humor…..As I am flipping through my pages I am getting so many journaling ideas. This is so much better than a blank page sometime, although I do have lots of blanks too. Can't wait for the journaling class!!!" — Kathy
Please note: If you'd like the $50 discount for purchasing this class AND the companion class "30 Days in Your Junque Journal," please purchase the Junque Journal bundle found here.  Do NOT check out on this page.  You must buy both courses at the same time in order to get the discount.  Thank you!