Print•Inktober: The Annual Printmaking Adventure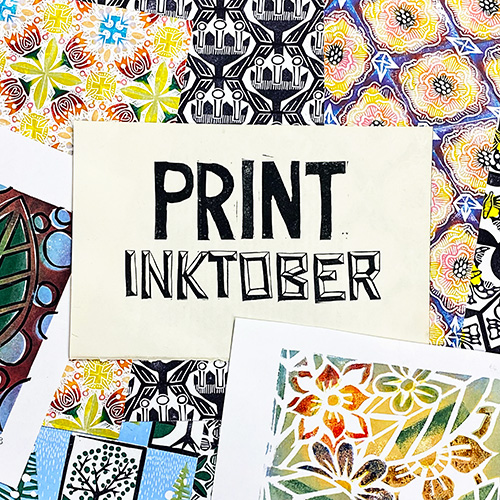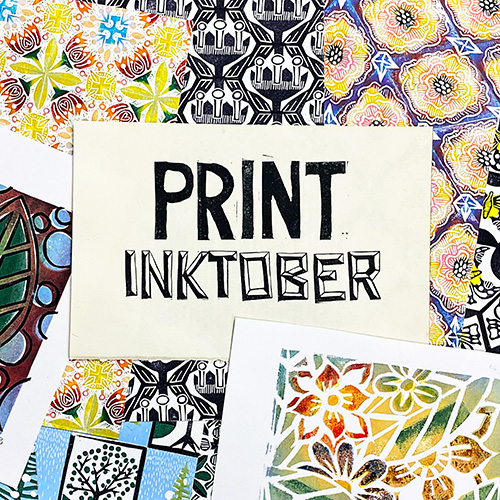 #PrintInktober — is the annual printmaking adventure I started in 2018.  The challenge is open to everyone — whether or not you take this class.  Here are the basics:
Create and post one print each day in October.
Use the hashtag #printinktober when you post.
Any stamp/block can be used – foam, silicone, rubber, hand carved, lino, whatever you want!
Any ink can be used – screenprinting ink, marker ink, stamping ink, printing ink, etc.
You can use the official inktober prompts, if you'd like.  Or not.
Have fun and don't worry if you miss a day (or more). The point of the challenge is to get those stamps out of storage and into use!!
If you'd like an extra dose of creativity at any time of the year, this class contains FIVE hour-long video lessons.
Lesson 1: Printing Patterns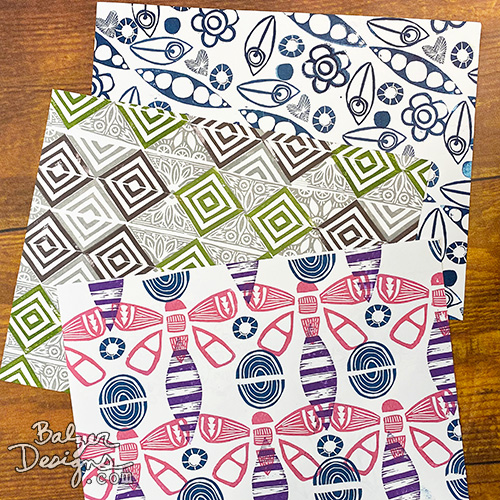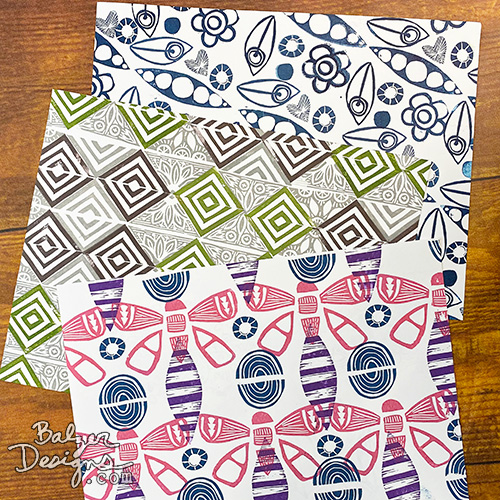 Lesson 2: Printing on Fabric (yardage as well as t-shirts and other pre-made items)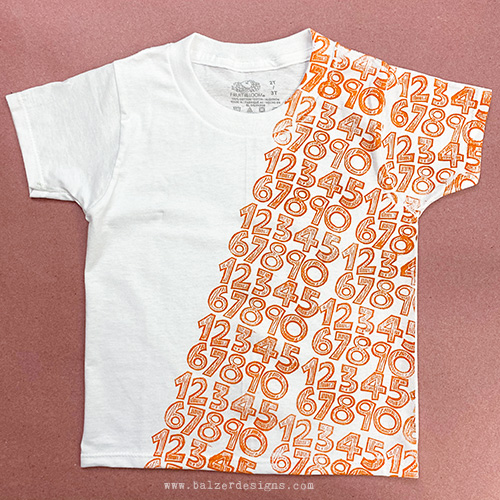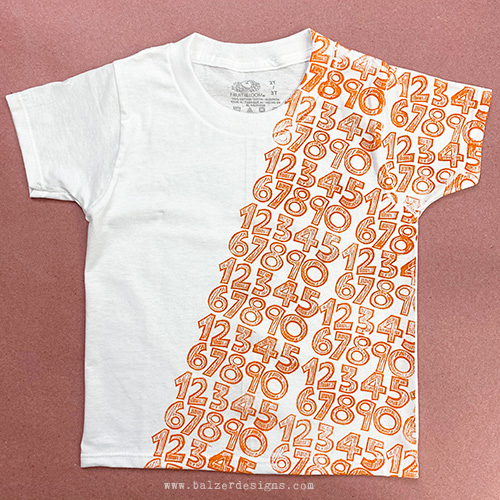 Lesson 3: Multi-color Prints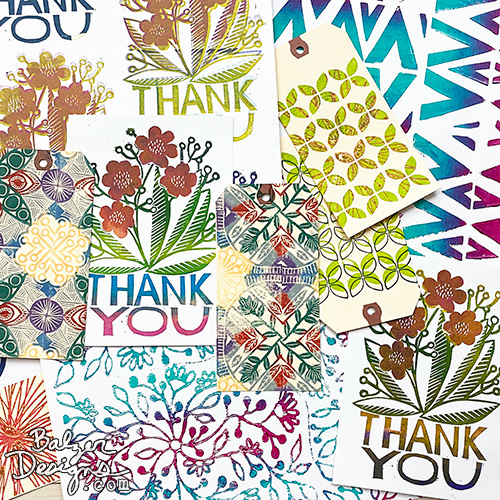 Lesson 4: Mixed Media Printing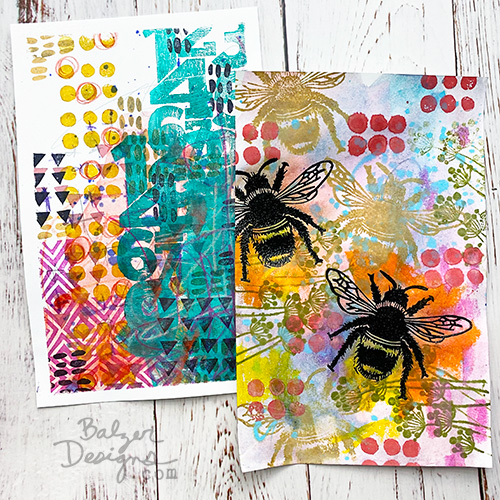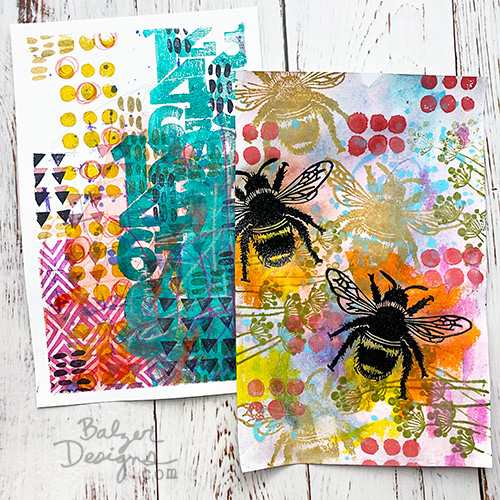 Lesson 5: Ideas for Your Prints on Paper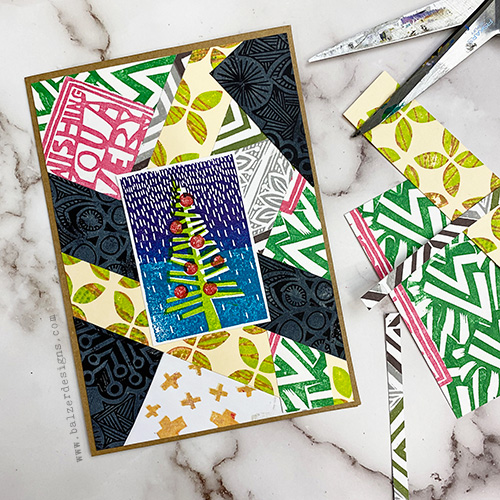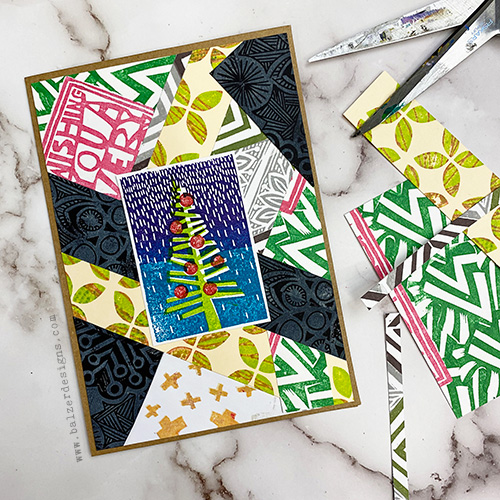 Some things to know:
You have LIFETIME access to class.  Rewatch lessons whenever you want.  Stop, pause, and rewind as needed.
You can ask questions in the comments section of the recordings.
There is a Facebook group for Balzer Designs students.
Supply Lists for each lesson are provided.
These lessons were originally streamed live. The videos in the classroom are replays of the live lessons.
Student Feedback:
"I was finally able to watch the 1st video – Pattern Making w/stamps. I enjoyed it so much! I had planned to just watch the first part of it, but, Julie, you are such a great teacher and so supportive and inspiring that I actually paused your vid for a few minutes, got out some tissue paper, stamps and inks and started my first pattern! It was wonderful therapy for me. I'm starting on Video 2 next and really hope to be able to join you live this Friday. Thank you so very much for offering this class at such an affordable price and making it available for me to watch as life allows." – Nora
"This is a great class, Julie….Anyway I love to watch your demos. I always learn something, or remember something or am inspired to try a new technique….you are a whirlwind. Thank you." – Peggy
"In every class you teach is something that triggers something new in my artsy self. That is wonderful. Mostly it is the little things that give me the biggest aha moments. In this class I had two of those moments. The first such moment was the pattern stamping right at the beginning. I had truly never thought that printing patterns was so much fun! The second moment was the printing on fabric. Soo much fun and as in the pattern printing so many new and wonderous options opened up right before me." – Kathrin
"I really enjoyed the class. You always give me more to think about, even though I am reasonably experienced." – Vicki
"Enjoyed the class and the daily art challenge. Thanks for being such a wonderful artist and teacher! Your classes are always worth the money." – Maggie
So, grab your stamps and lets have some fun!