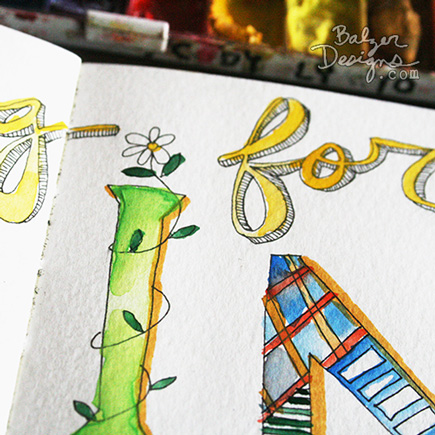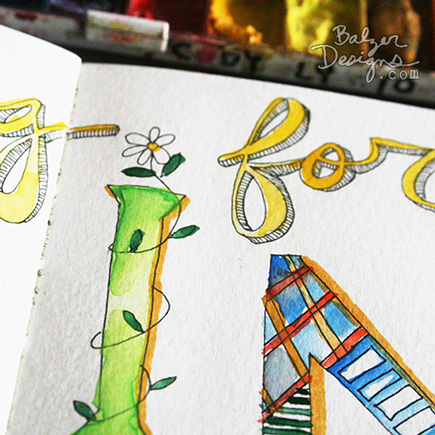 There are six videos in this power packed mini class.  I will show you the super simple ways to take your handwriting and make it totally awesome!
Watch this video for all the details about the class:
You will love how quick & easy it is to create fancy letters, add super cool shadows, and create letters full of pattern and color!
Read more about the class here.
a sampling of STUDENT COMMENTS…
"Hi, Julie. I've been following your blog for over a year and have waited so long to take a class. It was worth the wait. I thoroughly enjoy your teaching style and am having a great time experimenting with the ideas you showed and some of my own. For some reason it seemed like great lettering is something a person was just born with – an innate talent like being a great artist. Thanks for showing me that I'm wrong and that old dogs CAN learn new tricks." — Kristine
"I have to admit, when I first saw the lettering topic, I was not that inspired. But after watching the videos and working along with you, I loved every one. It is so much fun to do, and looks great. I can tell my doodling during meetings will reach a whole new level!" — Barb
"Julie, thank you for offering these "Getting Started" lessons and making them so much fun and affordable. Just the right combination to provide inspiration and motivation." — Christie
"Hi Julie, I am loving this whole series of classes. You are a fantastic instructor! This class on lettering has been … exhilarating? Inspirational? Hmm, sounds perhaps ridiculous to use such adjectives, but I have never understood lettering before…in fact I have always shied away from it because I didn't "see" it, and I felt like an idiot. Plus, I truly have poor penmanship, and my doodles never looked right. Now I know why and will go forward with confidence. Thanks so much for the clear instructions, the basics all the way through the fancy, and just generally being awesome. " — Sara
"What a lovely way to spend an afternoon – I just finished the pattern and color exercise – thank you so much for these Getting Started classes. I am a nature printer and this is far from what I do but I am confident that it will find a way into my artwork. I especially like that perfection is not part of your vocabulary. Not part of mine either." — JoAnn
"I've taken several of your classes and I definitely feel like you are talking to me – like you videotaped the class while I was right across the table from you. love your teaching style and classes!" — Lisa