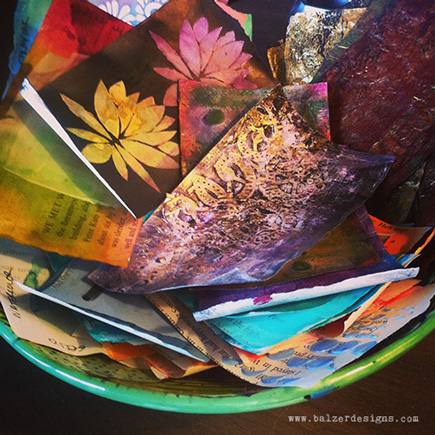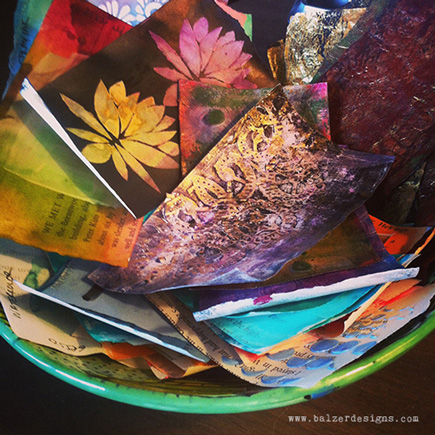 Gesso is an incredibly versatile paint medium. It is both useful and fun. This class covers the various types of gesso (white, black, clear, spray) and what to do with each of them, along with a host of super fun gesso techniques (like you see in the photo to the left). I think you'll be surprised by just how much gesso can do!
To read more about the class, click here. Watch a short promo video here:
PLEASE NOTE THAT THE CLASS PRICE HAS CHANGED SINCE THE VIDEO ABOVE WAS CREATED.  IT IS NOW $20.
a sampling of STUDENT COMMENTS…
"I have learned so much from this class, thank you! No more standing in Hobby Lobby staring at the shelf feeling mystified & leaving without buying anything." — SparrowApril
"Julie–I cannot tell you how much I learned from this class and how much it meant to be able to watch the lessons in my own time. Thank you so much for bringing this teaching format to me. I feel like I had one on one time with you." — Margaret
"Awesome! I stopped watching at one point to go gesso some pages…I can hardly wait to try more of the techniques from your videos, but I have to go to sleep so I can work tomorrow! Dangit!" — Nancy
"Julie, I just want to thank you for your online classrooms. I so look forward to them and learn so many interesting and fun ideas. I love to take my time watching and know that if I feel I have missed something I can always go back to the videos and pick up what I might have missed. I also like the fact that you take your time to explain in detail as you work. I have learned so much from your classroom videos." — Janet
"WoW! So much awesome info. I was not sure when to use which kind of gesso and this really helped. I love that you had a journal ready and shared why you would use a certain gesso. I need to go shopping for gesso." — Dionne