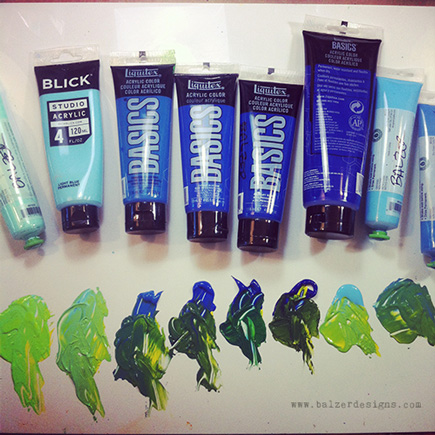 This is a great foundation course for people interested in learning how to mix their own paint colors. This course covers mixing secondary and tertiary colors, creating neutrals, tinting, toning, and shading. You'll be blown away by how much you can do with just yellow, blue, red, black, and white paint.
Read more in-depth information about the class here and watch a short promo video below:
PLEASE NOTE THAT THE CLASS PRICE HAS CHANGED SINCE THE VIDEO ABOVE WAS CREATED.  IT IS NOW $20.
a sampling of STUDENT COMMENTS…
"Hey there Julie….I loved all of the videos! They were easy to understand and simple to follow!" — Debbie
"Loved this class. I feel like I totally get it now. I've read books galore and somehow never quite understood the point of a color wheel. I used to think — of course red and green are opposites on the color wheel, I don't need a visual to show me that. Now I know… red is not red is not red 😉 I especially loved how you showed the different mediums – and now when I start with any new medium I know I can start with basic colors for my first purchase." — Lela
"Happy New Year Julie! I just wanted to tell you one thing…I wish you could be my teacher on all subjects I want to learn. You are so fabulous! You have such a gift for taking a subject, breaking it down, explaining it clearly and making it fun in the process. Thanks for sharing your great gift of teaching. I love this class!" — Becky
"I took a class for color and it took three hours to explain what you explained in 10 minutes. Thank you!!!!!!" — Annette
"Holey, moley I think that is the best and least expensive online class I have ever taken. Thanks Julie, my bajillions of dollars of products just got even more valuable!" — Kathryn