This class is all about the practice of daily diary-style art journaling.
When this class was originally offered, one lesson was delivered each day. This is now a self-paced class.  All 31 videos are available as soon as you sign up. You can sign up at any time and work at your own pace. That said, I highly recommend that you take it day-by-day or even more slowly, because there are great benefits in working over time rather than all at once.
Each video shows you how to combine writing and arting until we have built up beautiful, complex, layered, journal pages.
Every single day for 30 days you will get a power packed lesson!  Each lesson consists of:
A video tutorial: A daily 5- 20 minute video where I work in my journal, describing everything I'm doing and the thinking behind it.
A supply list: Each day the supplies used that day are clearly listed so you can easily gather your supplies and work along with the video.
A substitution list: A list of suggested product substitutions is provided every day.  This is not a class that requires you to go out and buy a bunch of stuff if you don't want to.  I try to show you a lot of different supplies in use, and then indicate what else you might have on hand to use instead.
A list of take-aways: This is not a class where you are meant to copy what I do exactly.  If you want to, awesome!  But my goal is to inspire and empower you.  So after every video lesson I have posted a list of lessons I hope you'll take away and put into use in your own journal.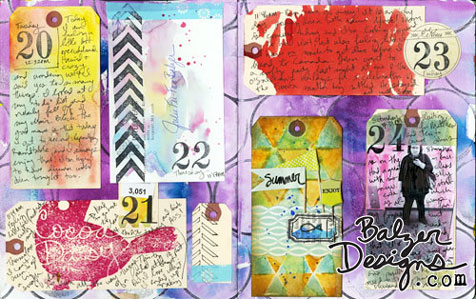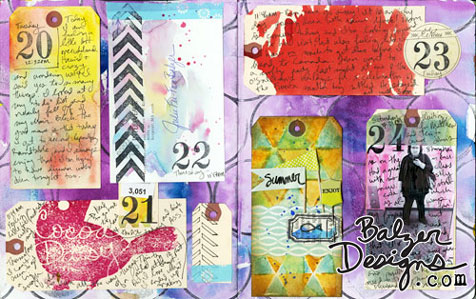 The thing that I think is the most interesting about this class is that you get to peek into my brain. It's the kind of class that I have always wanted to take — not only getting new ideas for techniques and design, but understanding why the artist made the choices that he/she made.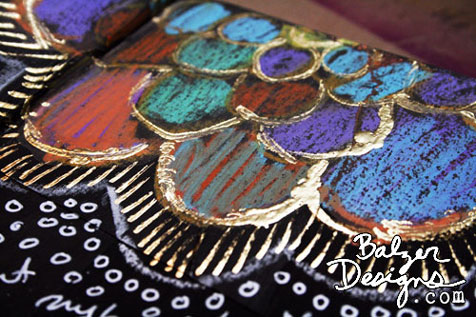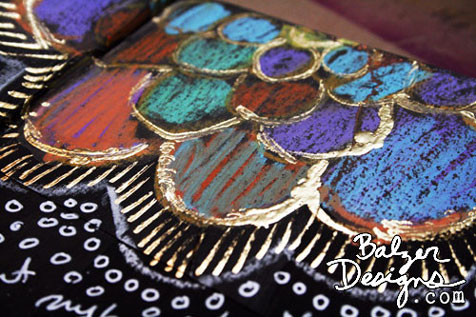 The tone of each lesson is conversational — as if we're sitting together playing in our art journals and sharing supplies.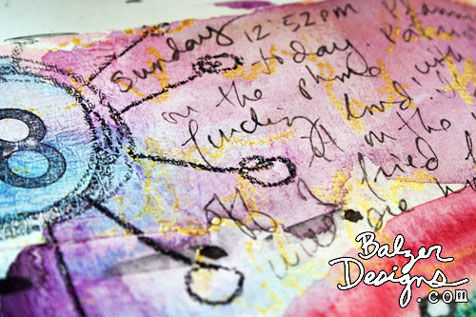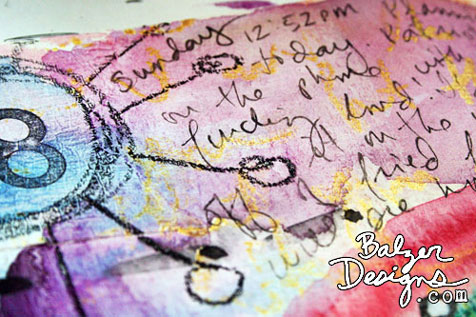 I'm using all of my favorite techniques in this class — the ones I use on a daily basis that are quick and easy to do.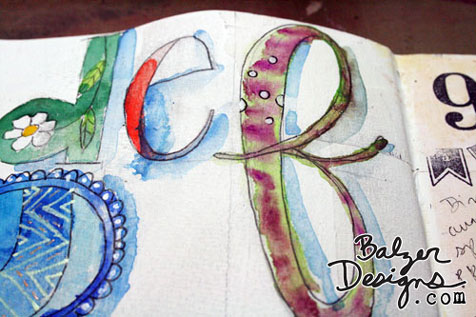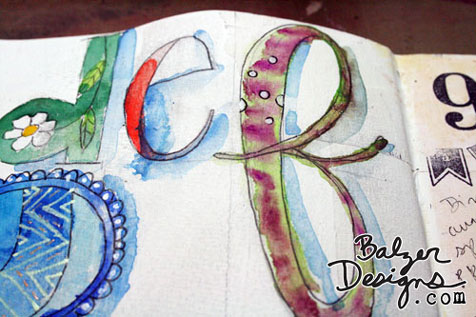 This class is meant to empower.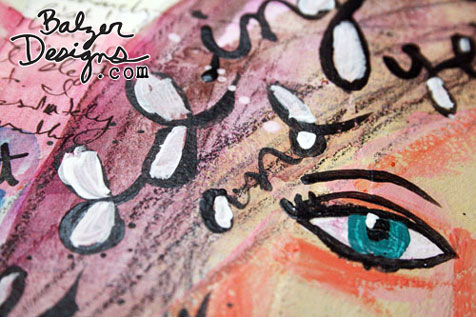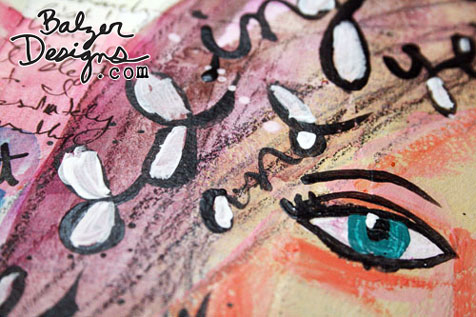 I hope to give beginners enough guidance to get started journaling with confidence and give advanced journalers some new ideas to contemplate.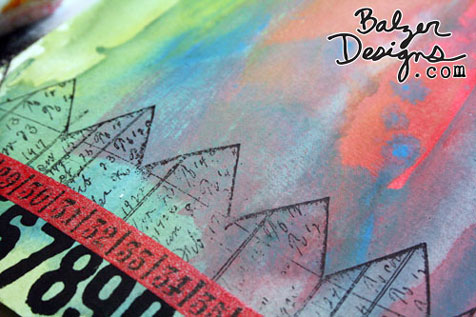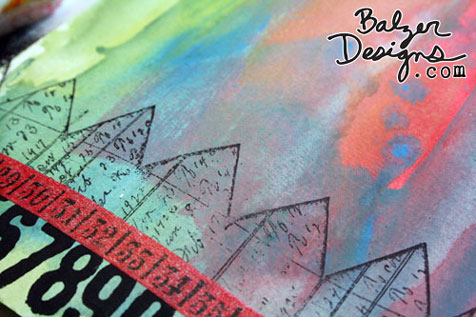 That's 30 videos, 30 blog posts, 30 days of techniques and inspiration for just $65.  Once you sign up, you never lose access to the classroom or the videos!
Here's just a small sampling of what students are saying:
"I have kept one kind of art journal or another for many years and still I learned SO MUCH from you and took such joy in my daily allotment of video magic. One of the most startling lessons was the idea that one can keep working on a page/layout for days. How freeing. Thank you. I have loved this class." – Dena
"Julie, I have been interested in art journaling for about a year now but never had the 'courage' to start one even though I've probably read every book published on art journals. What a revelation to find that it can be done in just a few minutes a day and that it can be fun! I've gotten so accustomed to working in my journal every day now that I prepared for a week out of town by preparing my background to make journaling easier." – Marcy
"This has been by far –THE BEST — underline underscore exclamation mark x 100 course I have ever taken. You gave shared without holding back the way you create, your sense of humor — and so much more — and I have really loved that. I will chime in as the others have, hope to see you in January with stamp carving 101 but will be there in pj's and coffee in hand for anything you have to offer! Thank you so much, I will miss the daily chuckle that I have gotten used to over the last 30 days!" – Catherine
"Julie – This class has been life changing for me also. I never really picked up a paint brush until this class, well, probably since 7th grade, and that was a long, long, long time ago – this class has inspired me to take the plunge. I'm now addicted to art journaling, buying supplies, books, watching every video you have on u-tube, and on and on. I can't sleep at night, just dreaming of what i want to create tomorrow." – Robin
"Julie this class was so much fun! I looked forward to getting up each morning to see the video (and I'm not a morning person!) I have loved every minute of it! One thing I learned that is super helpful, is that I don't have to choose between journaling and doing a different project on any given day (which is pretty much what I've been doing in the past). I can just spend a few minutes with my journal and build each page slowly if I want – it's a whole new way of thinking and I love it! Thank you so much for an inspirational class!!!!" – Michelle
"This has been the best class I have ever taken!! No lie. I have loved learning how and what to use plus using things I thought I thought I never would. I will truly miss this but am inspired to keep going. Thanks so much Julie." – Susan
"OMG just reading all these comments has me smiling and crying. I feel the same way as everyone here. It truly is life changing experience when someone finally makes you feel like you can do anything and anyway you want to." – Dawn
"This has definitely been my favorite JULIE class!!! A couple of why's come to mind, one being the time element. 10 minutes a day is easy and fun and manageable for my lifestyle. The other issue for me was once I started a page I had this overwhelming pressure to finish it right then. Don't really know how that happened but it is so liberating to know I can work on a page for several days and that's OK!!! And it may never really be finished but that's OK too!!! You have a terrific camera presence and explain things in a clear manner." – Carol
"I don't think I am understating when I say that this class was life-changing for me. Julie, you made me realize that I really can make art! Even though I am really sad to see class end, I know I will continue art journaling everyday – whether it's for 10 minutes or longer – because I'm now in the habit of doing it every evening after work. And I loved the Flikr discussion board and being able to comment on everyone's work and seeing the comments on mine – it was so encouraging! SO thanks, everyone! In the video for Day 29 you made a comment about how a great teacher can pull you though. Well all I have to say to that is look in the mirror! It was YOU who made the difference for me. And I sincerely thank you for that. I know I will be back in January for whatever you have in store!"
"Thank you soo much Julie for this class. I've come to know about art journaling only since August and I knew I wanted to do it. But I'd many limitations, from the budget to someone who could properly guide me. I accidentally stumbled on your blog and loved the way you so boldly used big patterns and colors. I then got a chance to participate in your free online stencilling class and fell in love with the way you demonstrated the diff techniques You're cheerful, witty and very clear in explaining things and above all very straightforward and sincere. When you started 30 Days of Art Journal I knew that I was going to be under a fantastic guidewho wanted to help others and was earnest to see her students' work. Your way of encouraging and inspiring each one of us is excellent. Overall just as the others mentioned, the first thing that i used to check in the morning was this class video and I'm going to miss it in the coming days. Maybe, hmm I'm already thinking about joining your next class:) I love the substitution list that you gave for each class. Other than the journal all the other things that I used for each day was from whatever I already had at home. This class was very cost friendly too. Once again thank you sooo much." – Susan
"Julie, thank you so much for sharing your techniques and yourself with us each day. I feel so much more confident now about absolutely everything I do in my art journal. And when something doesn't turn out the way I thought it should I say to myself "Such is life!" I have been a lurker on your blog for months always too afraid to sign up for art journal everyday but even though December is a crazy month I think I will because I want to keep doing the things you have taught me to do and feeling as good as I do now when I see that completed double page spread." – Joanne
"Julie, this class has been a pleasure each day. I loved learning how much can be done in small increments and realizing that it's okay for a spread to take many days to build up. Loved your emphasis on layers and using what you have on hand. I had been shy of watercolors but now LOVE them. Definitely looking forward to your next class!" – Marjie
"Where do I begin, for the past 30 days, this class has been the first thing I did each day. Even the hubby got into the whole thing asking What did Julie do today? Loved the music, some tunes got in the head and stayed with me all day! But what I am taking away from this class that will stay with me the most is how you teach about no wrong or right way. It has taught me freedom on a page, I don't have the fear of the white page now and I thank you for that. I have said it before and I will say it again and again, Julie you are an awesome instructor and your art rocks!!!" – Kathy
"So many fantastic take-aways from this class, the first being, don't be afraid. Realize that true art happens when you don't overplan it–and it's all good. It may get messy and may not turn out how you initially thought, but (to borrow your phrase) "Such is life." The good news is, there are no "mistakes" that can't be reworked if you have an arsenal of techniques and a few basic supplies. And art can be accomplished regardless of how busy your schedule is–in just 10- or 15-minute increments, but those few minutes of play will totally nourish your creative spirit. So, thanks to you, Julie, I'm claiming it–I AM an artist!" – Deb
"Thanks so much for all the inspiration you have given me. I can't express enough how much this means to me. After struggling for months not knowing if I am good enough to make an art journal, I know this isn's true. There is no wrong/right way. I am now a believer that anything is possible. Thank you for pushing me out of my comfort zone and trying new things and never giving up." – Dawn
You've got nothing to lose and a wonderful new habit to begin! Sign up today!