Podcast: Play in new window | Embed
Subscribe: RSS

Our guest today is Jackie Jimerson. Learn all about Jackie and her first time experiencing gelatin printing, gain insight into her thoughts on designing her own stencils, and listen in on our chat about paying for content or not, design teams, and a bit about being a black artist in the mixed media world.
If you enjoy the podcast, please give us a shout out on instagram or facebook. This helps other people find the show. Thanks so much!
Jackie Jimerson…

…is a mixed media artist and designer.

She found her way to mixed media through papercrafting about five years ago, and it has continued to feed her love for learning and experimenting with no end in sight.

After a few years of creating mixed media art, Jackie realized that she also enjoys making for makers, so she opened The Artisan's Caché on Etsy. There she sells her stencils, stamps, hand-bound journals, and carefully curated ephemera packs.

In early 2020, she joined the Gel Press Creative Team where she is able to let her passion for gelatin printing reach a wider audience.

Jackie lives in a south suburb of Chicago, Illinois with her son, where she works full time as an IT Data Specialist.
Here is some info about Pass the Brush: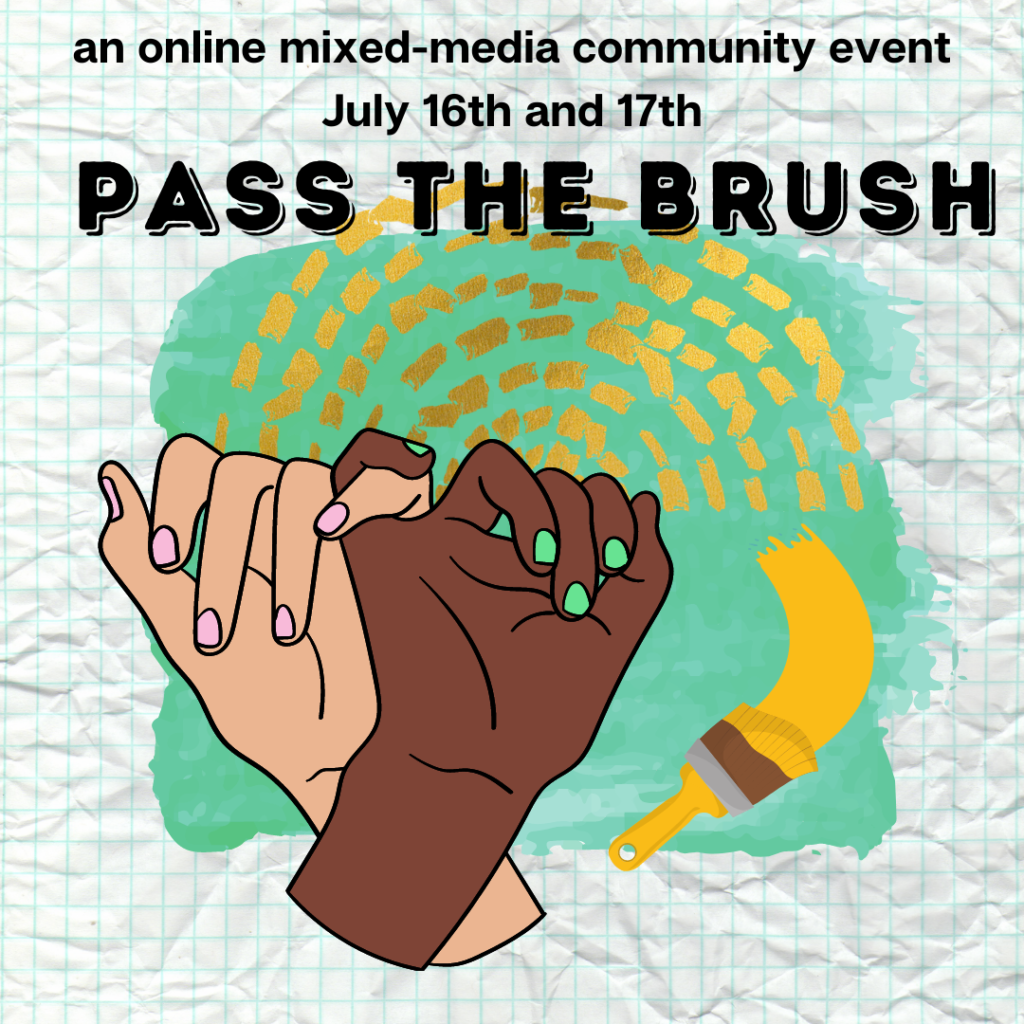 "Pass the Brush" is the mixed media community's version of "Share the Mic Now." The objective of this event is to show solidarity within the mixed media community and to amplify black mixed media artists so their voices can be heard and their art can be seen by a broader audience.
On July 17 & 18 Jackie will be taking over my Instagram and Facebook accounts in order to share her art and her story.
As part of Pass the Brush, there will be giveaways of some fun art goodies, including a $200 gift certificate to my online classroom.
I hope that you will join Jackie and me for the live event on Friday. We'd love for you to be there!
Here are our recommendations this episode:
Jackie: imawonder/Tina Tran – her youtube on kintsugi:
Find Jackie online:
I hope you enjoyed this episode. Thanks for stopping by!
All podcasts are archived here. Subscribe to the podcast on Apple Music here.
And if you like the podcast, please post about it on your social media so that other people can find the show!