Podcast: Play in new window | Embed
Subscribe: RSS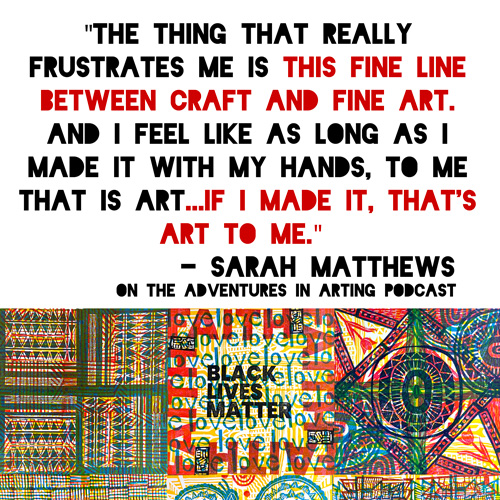 Mom and I had a wonderful long chat with Sarah Matthews.  I've seen Sarah's colorful layered prints many times, but I didn't know about her extensive work as a bookbinder.  On the podcast we talk about creating during quarantine, YouTube, artist books, and lots more.  Sarah has four girls and still manages to carve, print, or bind every single day. 
If you enjoy the podcast, please tell a friend about the show. This helps other people find the show. Thanks so much!
Sarah Matthews is a printmaker and book artist.
Her work has been exhibited in the US and is a part of the permanent collections of Yale's Beinecke Rare Book and Manuscript Library, George Washington University's Gelman Library, University of Puget Sound, and Samford University. She is also a YouTuber and a designer for ArtFoamies.com.
Some things we discuss on this episode:
artist books
book prints vs. wall prints
thrifting
Amos Paul Kennedy Jr.: "Put ink on paper every day."
As promised, here is Sarah's flag book tutorial:
Find Sarah Online:
Our Recommendations from this episode:
I hope you enjoyed this episode. If there are topics you'd like us to cover or guests you'd like us to invite, please let us know. Thanks for stopping by!