This class is 100% free! If you want to know how to use stencils, how to get the results you want, and be inspired to create, this is the class for you.
This class is perfect for beginners.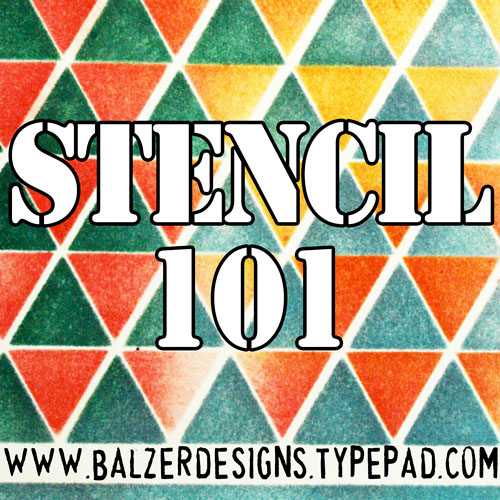 Here's a small sampling of what students are saying about this class:
"Wonderful Stencil workshop! I have learned lot of new things to try- and appreciate your time and work. I esp love the work with Bangs, as I simply cannot draw and faces are the absolutely hardest artistic challenges for me! I just started an Art Journal- I love the double stencil technique so much! Thank You!!!" – Shelly
"Julie, what a wonderful offering. You are such a great teacher — so REAL — and not overwhelming or 'too good to be here.' I love your attitude. Thank you so very much for this wonderful learning experience." – Mary
"Fabulous class. I'm pretty new to stencils, so what you've taught has been extremely helpful. After viewing the first couple of videos, I created my very first art journal page, using a couple of stencils." – lacyquilter
"Thank you Julie for a great class. My past stenciling results have left much to be desired. Now I totally understand why! I'm really excited to get started stenciling again." – Debbie
"Julie, Thank you so much for this class. It was very informative. In fact, the very first lesson addressed one of my top questions. I really enjoy watercolor but never found a way to use it without smearing! Now I understand why. Thanks for all the tips, encouragement, and sharing your valuable experiences. You may already know, but I'll reiterate, your creativity is very inspiring." – Ambal
"Finally got to watch all the videos and have learned so much – you have so many great tips! My stencils are now getting quite a workout. Thanks so much, Julie for a terrific class." – Penny
"Par excellent! Now, I'm chompin' at the bit to get your stencils and to start playing. I will definitely return to this series for guidance and inspiration. Many, many thanks." – Honoré
"Julie – what a great video of awesome techniques! Totally making me look at my stencils (that I just had to have 🙂 ) in a whole new way. This is awesome. Going to check out your technique palooza class. You are a great teacher!" – Rita
"This has been a great class from the beginning! I immediately knew I was guilty of overspraying with color wash and now I understand why my results were less than fantastic! I loved seeing the different ways stencils can be used. I really need to think outside the stencil!" – Beth
"Thank you for the class! My stenciling has definitely improved because of it. Thanks again for your time and talent and being willing to share with all of us." – Robyn
"Thank you for this class, Julie! I love your personal and thorough style of teaching and learned a lot!" – Sannika
"Thank you for creating all of these tutorials. I am no longer afraid to try my crafty hands at this. :D" – Cindy
"I was amazed by how much I learned from this class and delighted. Thanks so much, I will be looking for any other classes that you have on line." – Ami
"A very informative class! Thank you so much for putting it together for us! Lots of great tips, and I am always so motivated and inspired by your teaching methods–that you encourage experimentation and are not looking for perfection. Thank you again!" – Lisa
"I have absolutely LOVED this class and have used my stencils more in the last week than in the whole time ive owned them. Thanks so much for sharing your talent with us Julie – it is so very much appreciated!" – Lita
"I loved it! I use stencils a lot really and STILL you taught me so much! Thank you for this class …awesome job!" – Melanie
Knowledge = Power. Get some stencil knowledge and start exploring your artistic power!